The insider travel advice on this page is from one of Wendy's Trusted Travel Experts for Caribbean Resorts, Colorado Skiing, and Dive Vacations: Meg Austin
Meg's longstanding friendships on select Caribbean islands that offer spectacular resorts—specifically, Anguilla, Antigua, the British Virgin Islands, Dominica, Nevis, St. Barts, St. Kitts, St. Lucia, and Turks and Caicos—as well as on Mexico's Riviera Maya (on the Caribbean Sea) translate to special treatment for her travelers. That could mean a coveted snorkeling time before the cruise-ship day-trippers arrive, or the last room at a nearly sold-out hotel.  An avid diver and snorkeler, she is your best resource for vacations that you hope to spend mainly underwater.  She's a fount of ideas for keeping everyone in your multigenerational family happy (especially any who want to get SCUBA-certified)—and, after three trips to the Caribbean in the last year, she's up-to-date on how recent hurricanes have affected the region's infrastructure and sea life.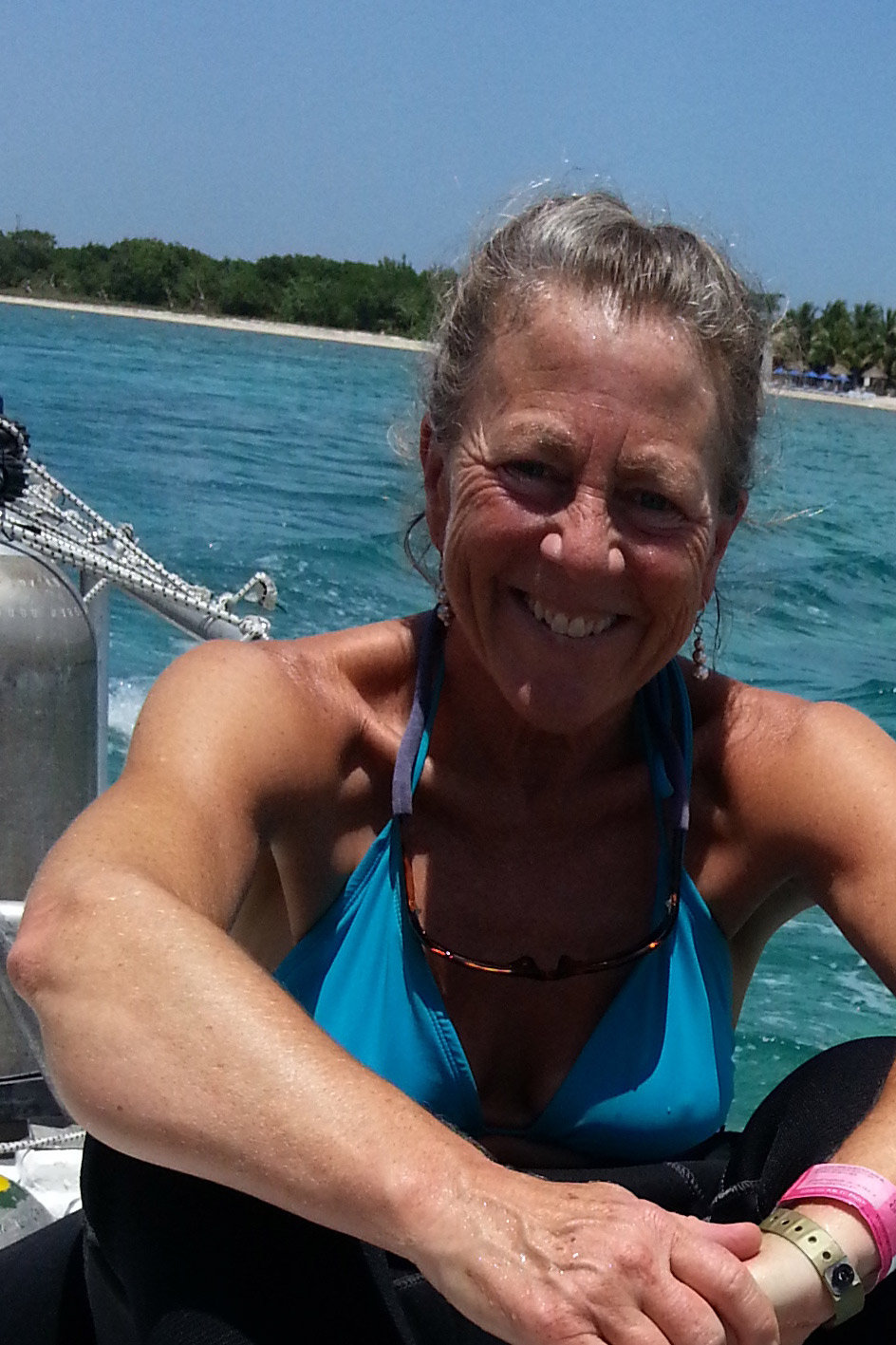 Where to Stay
Best-bang-for-your-buck hotels
Not inexpensive but worth every penny and with great added value, the Viceroy Sugar Beach and Jade Mountain, two of St. Lucia's most luxurious hotels—which also happen to be perfectly located for superb diving, drop their rates in the fall. The same goes for the more low-key Anse Chastenet, Jade Mountain's sister property. All three are close to the Pitons, the island's famous twin volcano plugs that don't just jut up, they jut down too, making for excellent wall dives and shore dives. One of my favorite spots there is the Fairlyand dive, where you'll see little shrimp and arrow crabs that sparkle gold and blue. For a romantic splurge, book one of the hilltop rooms at Jade Mountain; with only three walls, they offer jaw-dropping views, and many have private pools.
Best all-inclusive dive resort
Peter Island in the British Virgin Islands (this resort, which offers an all-inclusive option, will be better than ever when it reopens in 2019 after a renovation necessitated by hurricane damage); Magdalena in Tobago (it offers a variety of meal plans); the fully inclusive Barceló Maya Palace in the Riviera Maya; or Iberostar hotels in Mexico, Jamaica, and the Dominican Republic. All have consistent dive operations, but they're very different from one another, and choosing the one that's best for you depends on a variety of factors. I can help you decide which one best suits your needs—or suggest others, some of which may not have the best dive facilities, but I can have my dive teams pick you up anywhere so you get the best of both.
Best luxury dive resorts
For the ultra dive experience as well as ultra luxury, check out Amanyara in Turks and Caicos and Cayo Espanto in Belize. They're both to-die-for resorts, with excellent dive teams and stellar dive sites. Cayo Espanto, which is a stone's throw from the second-largest reef in the world, offers all-inclusive dive packages.
Best liveaboards
The Aqua Cat catamaran in the Bahamas does a fabulous job and has wonderful accommodations. Or rent your own crewed yacht with a dive master who will make sure the experience is exactly what you want it to be (see "Bragging rights," below).
Where to Dive
Dives you have to try
Cenote diving. Natural pools formed in underground caverns, cenotes are found all over the Yucatan, with the largest concentration in the Riviera Maya. They're mind-blowing! Everyone should experience them. Some people worry that they'll feel claustrophobic swimming around the caves, but the water is so clear you'll feel like you're suspended in outer space—or in heaven, with all the sunlight filtering in from above. My favorite cenote is called Taj Mahal because there's a stalagmite there that looks just like the Taj Mahal. Angelita is another favorite: It drops 200 feet straight down, and the saltwater and freshwater are separated by a strange cloud of hydrogen sulfate. You completely disappear in that cloud—there's absolutely no visibility—and then once you're through it you see these brilliant rays of light streaming through the hydrogen sulfate. It's utterly surreal. Even if the weather isn't great on land, the weather doesn't change in the cave. Cenotes are perfect year-round! If you go in August, you can even pair your cenote dive with a side trip to snorkel with the whale sharks, since that's when these amazing creatures visit the Riviera Maya in the greatest numbers.
Macro diving. It's probably not what you think it is. Macro dives are all about looking for tiny sea creatures, little bright critters that underwater photographers love to capture with their macro lenses—things such as sea horses, frogfish, and octopi. The island of Dominica has some wonderful macro dive spots. And while you're there, be sure to stop by Waitukubuli's Authentic Kitchen for lunch!
Most overrated dive destinations
I have a love-hate relationship with Cozumel and Grand Cayman. Both can be overrun with passengers from all the large cruise ships that call on them, so the only way to avoid the crowds is to dive during the off-peak times and/or go with a dive operator who knows the secret spots. Here's a great tip for Cozumel: Palancar Reef is about an hour's boat ride from town, each way. If you stay at the Iberostar Cozumel you will be able to sleep in, then have a cup of coffee while others are "commuting," saving you two hours per two tank!
Most underrated dive destinations
When you are not below sea level enjoying the incredible volcanic formations and abundant sea life, stay at the Pagua Bay House, hike the Waitukubuli Trail, or enjoy one of 365 fresh-water rivers and the waterfalls that feed many of them.
Best for thrill-seekers
Shark diving. With its shallow reefs and abundant sunshine, the Bahamas are home to all kinds of sharks and, unlike whale sharks, they're usually out and about year-round. I personally like to do my shark diving in July and August; it's the rainy season, but the water is the warmest.
Best place for new divers
St. Lucia's Anse Chastenet has top-notch instructors and dive masters who can cater to both novice and experienced divers.
Children as young as 10 can be introduced to the sport as junior divers, but there are key elements to successfully and safely introducing children to diving. In the Riviera Maya, you can find a diversity of activity both above and below sea level, and the right dive team for young new divers and/or referral course divers. More advanced divers in the group have the option to ferry over to Cozumel for a day.
Best for shore diving
Bonaire. It's a no-brainer. There are at least 100 easily accessible sites just off shore.
Best wreck diving
My favorite wreck is the Bianca C, in Grenada. It's known as the Titanic of the Caribbean.
Best reef diving
I could spend a year diving daily in Turks and Caicos—with its 7,000-plus-foot channels, canyons, walls, nooks, and crannies—and never get bored.
Cheap thrill
During slow periods (namely, mid-June through September or October) several dive resorts allow unlimited shore diving. Southern Cross Club in Little Cayman is just one example.
Best nonresort dive masters
Turnover can be so fast in this business that it's tough to recommend the same dive operator year after year, but in general, you'll find the best instructors and guides at the dive shops that have been in business for a long time (and with the same owner). Dive Provo in Turks and Caicos is a consistent favorite of mine. And Amos, who owns and operates Big Animal Expeditions, offers small-group, once-in-a-lifetime experiences in the Caribbean. His sperm whale dive in Dominica is over the top! UnderWater Expeditions organizes private or small-group guided dives in Mexico's Riviera Maya, including the Cenotes.