The insider advice on this page is from Wendy's Trusted Travel Expert for Spain: Pablo Calvo of Tours for You.
Pablo was born in Spain, studied art history at university there, and worked in museums until he realized that he wanted to help travelers craft their entire trips, not just a single stop along the way. He has explored all 17 regions of Spain and maintains a network of connections that ensures he can help reserve tables at the most sought-after restaurants in San Sebastian, arrange private Flamenco lessons in Madrid, or get you into the hidden-gem wineries in La Rioja. Rather than the fanciest hotels, Pablo prefers the charming, one-of-a-kind four-stars with a great location—and, in the countryside, a location that's easy to find in a rental car. For trips that include Portugal, he works with his Lisbon-based colleague Goncalo Correia, WOW List specialist for Portugal. Pablo covers mainland Spain only, so if you're headed to the Balearic Islands (e.g., Mallorca and Ibiza), the Canary Islands, or Gibraltar, write to Ask Wendy.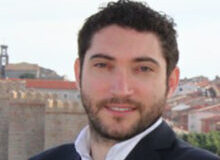 Where to Stay and Eat
Best bang-for-your-buck hotels
Though housed in a classic early-20th-century building in San Sebastian's Old Town, the Lasala Plaza Hotel is completely updated on the inside; Pablo recommends the bright and spacious Sea View rooms, which look out over La Concha Bay and the port. The hotel also has connecting rooms, which are hard to find throughout Spain. For a delicious tour of traditional Basque cuisine with a modern touch, make time for dinner at La Jarana Taberna, on the ground floor.
Best-value splurge hotels
In San Sebastian: The Hotel Maria Cristina is the architectural gem of the city, and it's where the stars stay when they are in town for the prestigious international film festival. It's worth paying more for a view over the Urumea River.
In the countryside: Hotel Iturregi is a fabulous place to relax in summer (it's closed in winter); in fact, you may well run into Spanish celebrities looking for a bit of peace and quiet. The hotel has just six rooms and two suites (each individually designed), so the staff is at your beck and call. There is no restaurant, but they do serve a nice breakfast and offer room service in the evening.
In Bilbao: The modern, five-star Gran Hotel Domine is walking distance from the city center. Book one of the rooms that looks out over the adjacent Guggenheim Museum, with its gorgeous, swooping curves. But you don't even have to go that far to enjoy contemporary art: There are impressive temporary and permanent collections within the hotel.
Restaurant the locals love
In Bilbao: Casa Rufo first opened as a delicatessen in 1955, adding a restaurant in 1995. It's not fancy, but it's authentic Bilbao down to its bones. Try the egg croquettes, which are crunchy on the outside with a soft interior.
In San Sebastian: Juanito Kojua is another traditional place, this one previously a wine shop before becoming a restaurant in the 1950s. They do excellent versions of the famous black beans from the village of Tolosa, about 20 miles inland, and hake kokotxas, a Basque delicacy using the underside of the fish's jaw.
Dishes to try
Bacalao al Pil-Pil, while well known all over Spain, is a traditional Basque codfish preparation with a rich, delicious olive oil-based sauce. You'll find it in every local restaurant in central Bilbao, San Sebastian, and Vitoria.
Marmitako is a traditional Basque stew. The main ingredient is albacore, always fresh from the ship, which is cooked over low heat with potatoes, chorizo peppers, chopped tomatoes, onion, and garlic. You can find best versions of this dish in Hondarribia, Deba, Mutriku, Blbao, and San Sebastian.
Txuletón is a Basque T-bone steak, served alongside cider in a traditional cider house (where you may have to eat family-style from shared serving dishes while standing up). There is usually just one set menu that includes the steak, some bread and cheese, maybe a codfish omelet and green peppers, nuts as a dessert, and cider from the barrel—but you won't go home hungry. Locals come here to celebrate special occasions. The best cider houses are located on the outskirts of San Sebastian; try Petritegui, Alorrenea, and Iretza.
Meal worth the splurge
The tasting menu at one of these Michelin-starred restaurants:
Asador Etxebarri, in the countryside 25 miles from Bilbao, where absolutely every dish spends time on the grill. The single set menu is conceived the same day based on the freshest products available that morning. The cattle are raised on nearby farms, the vegetables come from the surrounding lands, and the shellfish arrives fresh; the chef also breeds Italian buffaloes, whose milk he uses for his mozzarella.
Mugaritz, just outside San Sebastian, has steered away from the fusion techniques that are so popular at high-end restaurants these days. The restaurant is surrounded by trees, and the dishes pay homage to the land and the season's best products.
Martín Berasategui, also outside San Sebastian, elevates local ingredients and simple recipes into avant-garde classics. Chef Berasategui owns 12 Michelin stars in total, three of which belong to this eponymous restaurant; dining here is like tasting art.
What to See and Do
Most underrated place
Despite its beauty and proximity to Bilbao, the Encartaciones region is seldom visited. A day trip from the city could include little villages such as Balmaseda, Zalla, or Carranza; the Pozalagua cave and its bizarre stalactites; or the Loizaga Tower with its collection of Rolls-Royces.
Most overrated places
Bermeo, which many will say is the Basque country's most charming fishing village. Pablo prefers the more authentic atmosphere in Ondarroa or Pasaia.
The island of San Juan de Gaztelugatxe, which crowds descended on after it stood in for "Dragonstone" in Game of Thrones. Beware: Climbing those 241 steps—which are sometimes incredibly slippery because of rain or fog, and packed with dozens of groups going up and down—can be tough. All but the most diehard fans will be just as happy taking a photo from a distance and enjoying the seaside nearby.
Cheap thrill
A crossing of the Nervion River on the Vizcaya Bridge, a UNESCO World Heritage Site and the world's oldest transporter bridge (it carries people and cars across the river in a gondola, so as not to disrupt ship traffic). For about four euros you can cross the river via this industrial work of art; 12 to 14 euros gets you an audio guide and access to the top platform.
Hidden Gems
Near Bilbao: Bodega Crusoe Treasure ages some of their wines in the sea (which is not unlike a cave, with a consistently cool temperature and little sunlight). Board their boat for a private, side-by-side tasting of bottles aged on land and underwater, paired with delicious tapas.
Near San Sebastian: The village of Pasaia is a seaside charmer with cobbled streets and medieval homes. Pablo can arrange for you to take a three-hour hike with a local guide along the coast from San Sebastian to Pasaia, visit the village's boat factory to learn how Basque whalers have lived and worked since the 16th century, or spend the afternoon with a chef at his restaurant preparing the region's most famous fish dishes.
In Álava province: Visit the Añana Salt Valley to learn firsthand how this "white gold" is harvested today, and what processes were used to gather this precious product as many as 6,500 years ago. The landscape is truly stunning.
Bragging rights
While you're touring La Rioja's famous wineries, Pablo can arrange for you to have a farm-to-table lunch, paired with fine wines, at an underground cellar in a quaint, medieval village. The cave is built into a hill, just beneath a church and a 12th-century castle, so you'll also enjoy a panoramic view of the valley from outside the cellar.
Pablo has connections to some of the private gastronomic societies that play an enormously important role in San Sebastian's social life—and which you can only visit when invited by a member.
Prime picnic spot
Pick out fresh Basque products at the Bretxa food market, then enjoy a lovely picnic on Santa Clara Island, located in the middle of San Sebastian's bay and accessible via a regularly scheduled boat from the mainland.
How to spend a Sunday
Spaniards usually reserve the morning for chores, sports, or mass; around lunchtime, they enjoy a glass of vermouth, paired with cañas and tapas, among family or friends.
In Bilbao: Walk to the flea market in Plaza Nueva and stop somewhere in the Old Town to enjoy a plate of rabas (calamari), then ride the Artxanda funicular for the most beautiful views of the city.
In San Sebastian: Walk along lively Concha beach, enjoying an ice cream as the locals do. Here you can also take a funicular up Mount Igueldo for wonderful views.