The insider advice on this page is from one of Wendy's Trusted Travel Experts for Central Asia and the Silk Road: Zulya Rajabova of Silk Road Treasure Tours.
Zulya grew up in Uzbekistan (her hometown, Bukhara, is one of the legendary cities of the Silk Road trading route) and returns often to visit her large and charismatic family—the same family that her travelers are often lucky enough to meet.  Since Zulya has had a home in the U.S. since 2003, she fully understands what sophisticated Americans want to see and do amid the stunning landscapes and ancient sites of Central Asia (including all five "Stans"), and she can also address any and all safety concerns they might have. Her expertise with languages (in addition to Uzbeki and English, Zulya speaks German, Russian, and Farsi) set her on a path in tourism: She started out as a private guide for journalists, diplomats, and heads of state visiting Uzbekistan. Her personal contacts at museums, exhibition sites, and performance companies translate to exclusive access for her clients, and the encounters that she orchestrates with artisans and businesspeople help bring alive aspects of the culture both ancient and contemporary. To make sure that every trip lives up to her savvy travelers' standards, Zulya not only arranges for superlative guides and comfortable hotels and homestays but also handles the potential logistical hurdles of travel to this region, such as border crossings and visa procurement.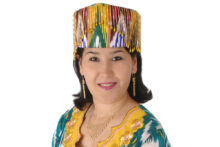 Where to Stay and Eat
Best bang-for-your-buck hotels
The Lotte Tashkent Palace provides four-star comfort and service, with large rooms that have all been recently renovated. Request a quiet one at the back, as there is often a sound-and-light show at the fountain across the street. The Lotte is in a super location, and Zulya's travelers get early check-in, late checkout, and upgrades for a special occasion.
The five-star Hyatt Regency in Tashkent is luxury on a world-class scale, and in Samarkand the Hotel Dili Mah offers affordable elegance.
Restaurants the locals love
In Tashkent: Head to Caravan for Uzbek décor and traditional menus, April Verdant for the lovely setting and wide international menu—including vegetarian options—and the Afsona for great service and super Uzbek food.
In Samarkand, go to Osh Markazi for great Samarkand-style plov (the national dish of Uzbekistan, a savory mix of meat, vegetables, and rice) and to Platan for shurpa: a hearty soup made with meat, fat noodles, and fresh vegetables. Platan has both a traditional dining room and a fabulous rooftop terrace.
In Khiva (see "Don't miss"), Terassa offers rooftop dining in the old town; at night the surrounding architecture is lit up beautifully.
Meal worth the splurge
Get a table at Labi Khaus Restaurant, in the heart of old Bukhara, beside an ancient pool surrounded by 14th-century mulberry trees. It's been the city's gathering place for centuries! Order either the shurpa or the shashlik (they serve meat, chicken, fish, and veggie versions of this shish kebab), and a cup of the special Silk Road spiced tea. Ask any of the locals to recount one of the humorous stories of Khodga Nasreddin, a 13th-century philosopher who disguised his moral lessons in amusing anecdotes; his statue is nearby.
What to See and Do
Don't miss
The mud fortresses at Ayaz Kala, in the Karakalpak region, are a truly fascinating destination. Travelers can explore archaeological treasures from the fourth century B.C., ride camels, and overnight in a yurt (where they'll be treated to a performance of traditional desert music under the stars). Easily accessible from Ayaz Kala is the world-class Savitsky Collection of "forbidden" Russian avant-garde art; the story connected to this museum is a terrific tale of one man's secret mission against Soviet-style repression.
Khiva. This city is a pedestrian-only "living museum" with original and restored medieval Islamic architecture of gorgeous green- and white-tiled adobe; plus, there are gorgeous desert sunsets and a lively restaurant and shopping scene.
Bragging rights
Uzbekistan is a hot destination for fashion and interior designers, drawn by the gorgeous fabrics, detailed workmanship, and traditional designs in cotton, silk, and lavish embroidery. Zulya can introduce you to local fashion designers, textile experts, and jewelry makers, and you can get one-of-a-kind, fabulous ikat fabric or custom-embroidered clothing made.
Downtime
In Tashkent: Alisher Navoi National Park. This man-made park is an oasis of green with ornamental gardens, a lake, canals, cafés, and plazas. Head to the fountains behind the Palace of People's Friendship, where you'll find the Abul Kasim Madrassah, which now houses artisans' workshops. There's a nice view of the lake in Navoi Park and the bright blue dome of the Uzbek parliament, and on Saturdays the nearby Navruz Wedding House is a hive of celebrations.
In Bukhara: Mokhi Hossa Summer Palace (the Palace of Moon and Stars). Located in the countryside just outside the city, this palace was once the summer residence of the Emir of Bukhara; it's a beautiful, peaceful spot for a stroll around the Asian- and European-influenced early-20th-century buildings.
A perfect day
Visit the bazaars and the hammam in Bukhara. The historic center's old trade domes (covered bazaars) are bursting at the seams with food, spices, fabrics, handicrafts, and souvenirs, most produced locally. They're busiest and most colorful on Sundays, Thursdays, and during the Silk and Spice Festival in May. One of the most interesting is the Toki Zargaron trade dome, where you can find fabulous jewelry, the best embroidery and silk items, and even carpets. Afterward, stop for tea and perhaps lunch at the chaikana of either the Labi Khaus complex or the Bolo Hauz, in the park opposite the Ark. Then make the short walk to the city's hammam, or Turkish bath, for your massage (best to book ahead); the well-preserved stone domes and corridors here date from the 16th century. Relax and reenergize in the hot and cold baths and enjoy the tasty local ginger tea.
Need to get back to nature? Head to Lake Charvak, just outside of Tashkent, for some boating or swimming. Further afield, Mount Chimgan has cool summer temperatures, hiking vistas galore, and charming rural villages. In late spring and summer, take the old Soviet chairlift up with the local grannies for a picnic, or stop for coffee at the Beldersay hotel.