The insider advice on this page is from one of Wendy's Trusted Travel Experts for Greece: Christos Stergiou of TrueGreece.
Christos grew up in Athens and on the island of Patmos, where he helped his family run Petra Hotel & Suites. After a decade in the United States earning an MBA from Stanford Business School and working at a Boston consulting firm, he returned home to found a boutique travel company catering to those independent, luxury-loving travelers who want to see the country's highlights and hidden treasures with minimal hassle and through the lens of a real insider. Besides booking chic island hotels, Christos can arrange weeklong sailing trips and villa rentals. He receives rave reviews for his guides, especially the ones who will accompany you to the ruins in Athens, Delphi, and beyond and breathe life into all those ancient stones. And then there's his on-the-ground staff who act as your personal concierge—round the clock, in case of emergency—and to help smooth over any last-minute wrinkles (those notoriously unreliable ferries, for one).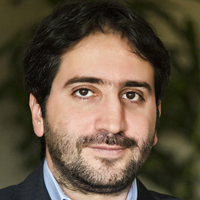 What to See and Do
Don't miss
Pyrgos. Once Santorini's capital, Pyrgos has panoramic views of the island and the sea and a wonderful authentic flavor. It's also home to more than 30 churches and has the island's most impressive Greek Orthodox Easter celebrations (visitors welcome!).
Thirasia, a quaint little island a few miles off Santorini's west coast. The two islands were part of the same landmass until the massive volcanic eruption in the late Bronze Age separated them; when you take a boat to Thirasia (it's an easy day-trip) you'll actually be crossing the sea-filled crater. Once there, you'll see what Santorini was like many years ago: a peaceful island with few permanent inhabitants, donkeys, and some simple taverns, both by the water and up in the village.
Don't bother
Staying in Fira. It has the largest variety of shopping and dining options on the island, but it's the most heavily trafficked area of Santorini, and its narrow alleyways easily become congested, especially during the peak months of July and August. Have a meal or two in Fira, but base yourself elsewhere on the island.
Cheap thrill
The prehistoric settlement of Akrotiri should be on every visitor's list—but rarely is. It's one of the most important prehistoric settlements in all of Greece and sometimes called the Pompeii of the Aegean, since Akrotiri was buried under massive layers of volcanic ash for thousands of years until excavations starting bringing the settlement back to life. It's well worth the small price!
Where to Stay and Eat
Best bang-for-your-buck hotel
The cliffside Astra Suites has always been a favorite places to stay; the property offers a variety of room types from studios to private pool suites.
Restaurant the locals love
Move away from the caldera for Metaxy Mas, a traditional Greek taverna located in Exo Gonia, almost in the center of the island. Come hungry and enjoy Greek dishes and specialties from Santorini and Crete. Some of the house specialties include pomegranate salad, fried feta cheese with honey and sesame, and veal filet in vin santo sauce (vin santo is a traditional Santorini variety of wine).
Must-have dish
Fava with lemon is the traditional recipe all over Santorini. Fava, a puree made from chickpeas, as well as the other Santorini staple, tomato fritters, can be found on appetizer menus in many tavernas and restaurants, but at Selene, in Pyrgos, you can try both in one dish.
Meal worth the splurge
For an upscale dining experience, book a table on the clifftop terrace at Ambrosia in Oia. Or try some fresh fish in one of the tavernas on the water in Ammoudi (the bay below Oia). Dimitris Ammoudi, Sunset, and Katina are all fabulous.
Prime picnic spot
The faros (Greek for lighthouse) on the southwestern tip of the island, right next to Akrotiri. While you cannot enter the lighthouse itself, the spot where it is located offers panoramic views of the caldera all the way up to Oia, Nea Kameni, and Thirasia. Come for sunset, perhaps after a day spent on the beaches close by!