The insider advice on this page is from one of Wendy's Trusted Travel Experts for Romania: Raluca Spiac of Beyond Dracula.
Raluca's friends throughout her homeland of Romania will make you feel right at home and ensure you gain a full appreciation of its beautiful landscapes and its culture charmingly stuck in an earlier era, when people organized their lives around the seasons (but now check their smartphone to see what time sunset is). Raluca loves to arrange trips that combine the Carpathians' forested peaks (ideally seen on foot or horseback), Bucharest's curious combination of Art Nouveau and brutalist architecture, the Danube Delta's rich avian and aquatic life, and a few 13th-century UNESCO World Heritage-recognized villages and churches (where you can spend an afternoon with one of the many traditional craftspeople that Raluca has befriended, likely ending up in their attic looking through old photographs). Her preferred accommodations range from the country's few true luxury hotels to guesthouses serving home-cooked meals with produce from their garden.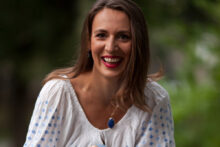 Things to Do and See
Most underrated experiences
Romania has more flora and fauna species growing and living in freedom than anywhere else in Europe. King Charles says that on a square meter of meadow in Transylvania, you have more biodiversity than anywhere else in Europe; the existence of wolves and lynx are testimony to how wild the country still is. Even those who expect its sheer natural beauty are still surprised—as well as those who aren't particularly passionate about nature.
The same goes for the food and wine. Romania lost its reputation for good wine during the Communist era, since Russians like their wine sweet, but the current vintages are excellent. The food is praised not so much because of the dishes, which are often adaptations of Arabic or European cuisine, but because the ingredients taste so local and genuine.
Hidden gems
Malankrav, a small village in the heart of Transylvania, has one of the smallest and most welcoming fortified churches. The frescoes are colorful, the little garden is well tended, and overall there is a peaceful atmosphere. Many other churches feel heavier and darker by comparison.
The Village Museum in Sighetu Marmatiei, in Maramures. There are many museums that display rural constructions from all the regions around Romania. This one is hardly visited, but it's very realistically done—so much so that you feel at any minute someone will come out of one of the old wooden houses and welcome you.
Raluca can arrange a visit with a local family who grows organic medicinal plants and spices, which ends with a home-cooked meal and stories.
Cheap thrills
Seeing bears from a bear hide in the forest. Though it's impossible to guarantee, Raluca has never had travelers not see at least one—and some have seen eight or nine, including cubs.
Horseback riding. No matter your level of experience, one hour in the meadows and forests of Transylvania is exciting and fun.
Don't bother
Renting a sports car to drive the Transfagarasan. It's been called "the best road in the world," but unless you arrange for the road to be closed (which is possible but expensive), you'll get stuck behind traffic while you try to race around the curves. All but the wildest car aficionados will be happier taking it slowly and stopping for photos.
How to spend a lazy Sunday
Sundays are great in Bucharest (and the other larger cities) because there is little to no traffic and the atmosphere is relaxed. The better restaurants in town get busy, though, so make sure you have reservations.
Where to Stay and Eat
Best-bang-for-your-buck hotels
Privo, in the peaceful small town of Targu Mures (in central Transylvania), has a very professional staff, good prices, and exceptional meals. Reserve one of the apartments in the Villa Csonka, and book time with their sommelier to learn about the wine collection.
Romania does not have a proper five-star hotel yet (though some claim otherwise). The true standouts in the country are guesthouses in Transylvania and Maramures. You'll find no fitness center or spa, but the locations are fantastic (small, quaint villages surrounded by pristine nature), the meals are generous and tasty, and there are plenty of truly welcoming people around. One of my favorites is Sesuri, in Maramures. The village has adopted the guesthouse's German owners, who fell in love with this corner of the country on a hiking trip in the 90s, and they'll make you feel as at home as they now feel. The place is rustic but designed with an eye for fine detail.
The Cinsor Guesthouse in Transylvania is a former schoolhouse with an amazing chef who arranges for Raluca's travelers to be greeted with a nice snack or a proper meal, depending on their arrival time. (Many other guesthouses just have local ladies cooking, and the food is good but not remarkable. But Cinsor has a proper chef—who might be part magician, given what comes out of the kitchen.) If you reserve the Big Attic Room, you're greeted with a view of the Carpathians as you wake up.
Best-value splurge hotel
At Bethlen Estates, the care and love shown by the descendants of the original Counts of Bethlen is visible in every simple yet luxurious detail. Imagine being warmed by a traditional fireplace while sleeping in a handmade bed beneath original wooden beams; dining al fresco on a gourmet picnic grilled over an open fire, surrounded by the beauty of Transylvanian nature; or tasting wine in the torchlit ancient cellars of Count Janos Bethlen's manor house. You can also explore nearby sites—including a 14th-century castle and the medieval Saxon village of Biertan—in a horse-drawn cart or do bird watching, cycling, and hiking. The kitchen produces very creative dishes from local produce, and they have a great selection of Romanian wines.
Restaurant the locals love
GRANO, in Bucharest. It's Italian cuisine like Italian mothers cook, yet in a chic setting. The menu is limited, but everything is prepared in-house, often with ingredients brought from Italy. The best dishes are the AOP (alio olio pepperoncino pasta), octopus salad, and carrot cake. Definitely order some Cartizze, a type of Prosecco made in Veneto by the father of one of the owners.
Meals worth the splurge
Raluca can arrange for a chef to set up a five-course meal outdoors for you, in a meadow overlooking the Carpathians. Enjoy Romanian wine and the hospitality of your host while you try local delicacies such as truffled butter or zacusca, a veggie spread usually made in the fall to use during the winter months.
In Bucharest, Kaiamo aims to embrace Romania's traditions through a contemporary lens—garnering many awards along the way. And the tasting menus are a relative steal, starting around $100 for nine courses. Pair your meal with an innovative concoction from the bar or a glass of local wine.
Prime picnic spot
Herastrau Park, in Bucharest, is large enough that you don't feel like you're in one of the busiest cities in Eastern Europe. There's a large lake—with options to row or paddle after your picnic—and plenty of shaded grassy spots. (If you haven't gotten it together to bring lunch provisions, there are nice restaurants along the lakeshore.)