The insider advice on this page is from one of Wendy's Trusted Travel Experts for southern France: Philip Haslett of Unique Provence.
Philip crafts elegant, bespoke itineraries through the hidden pockets of southern France that, sadly, most travelers miss. The reason he knows so many charming villages, country lanes, waterways, and cowpaths is the many years he spent captaining both hot-air balloons and luxury hotel barges: He frequently ended up in the middle of nowhere in rural France, making unusual discoveries and meeting interesting local characters. An Englishman who has lived in France since 1987, he still personally guides the occasional Hollywood celeb and Forbes Lister, but usually he is too busy running his Provence-based travel firm. He can unlock the Palace of the Popes at night, unlock most doors in Bordeaux, helicopter you in to hike with shepherds in the Pyrenees, or ensconce you in a chic beachside villa whose guest list looks like the Oscars seating chart. From the Atlantic to the Mediterranean, he excels at trips that focus on food and wine or adventure (often a bit of both): enjoying oysters fresh from the sea, wine tasting with world-class sommeliers, canyoning in the Verdon Gorge, or surfing in Biarritz. Bear in mind that some of the sights he'll recommend are so hidden that you may be better off using one of his English-speaking driver-guides than renting a car and attempting to navigate on your own.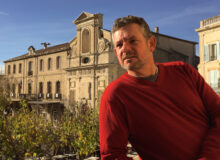 Things to Do and See
Hidden gems
Two little towns on either extreme of the Luberon are often overlooked: Saignon, a small but beautiful village that has retained all of its charm while keeping a low profile, and Oppède le Vieux, which has a wonderful bistro called Le Petit Café. Come here for a sensibly priced lunch and you won't find many other tourists, even in summer.
On the Riviera, the MACM museum in Mougins houses an eclectic collection of antiquities and classically inspired contemporary art, from the world's largest private collection of Roman and Greek armor to paintings, drawings, and sculptures by Picasso, Matisse, Cézanne, Chagall, Dufy, Rodin, Dali, Andy Warhol, and others.
The old village of Cagnes sur Mer, Le Haut-de-Cagnes is often missed on Côte d'Azur itineraries—and yet it was here that artists Renoir, Soutine, Modigliani, and Klein came to find their inspiration. It is a wonderful village for an aimless stroll, where a surprise is always waiting around the corner of the narrow alleyways and cobbled streets. The village has a collective of local jewelers whose galleries you can peruse; a visit to the Chateau Grimaldi, overlooking the village and offering sublime views of the surrounding region, is a must.
Cheap thrill
Not much is cheap on the Riviera, but they can't charge for the view from the Tête de Chien rock. Drive up to the top and then walk down the dirt track, and suddenly you're overlooking all of Monaco and Saint-Jean-Cap-Ferrat. Another spectacular viewpoint is from the Fort de la Revere high above the village of Eze.
It doesn't get more Provençal than playing petanque with the locals (including Philip, if he's around). Ambience guaranteed!
Not-so-cheap thrill
Having your yacht pick you up at the foot of your hotel and take you to lunch in St. Tropez is a true Riviera moment. If yachts aren't your thing, then a helicopter from Monaco or Cannes to Alain Ducasse's La Bastide de Moustiers—flying over the Verdon Gorge followed by a photo session in the lavender fields—is an unforgettable experience.
Most underrated place
Marseille gets a bad rap, but it's one of the most beautiful cities in the south of France—and it has an incredible selection of hotels. If nothing else, pass through to see the Basilica of Notre Dame de la Garde, which offers a 360-degree view over the Mediterranean; the Chateau d'If (a setting for The Count of Monte Cristo); and the port and various forts and defenses that were built to guard it. If you have time, explore the Panier district, with its little shops and squares that are evocative of old Marseille, and the MuCEM—the Museum of European and Mediterranean Civilizations, built in 2013 when Marseille was the European Cultural Capital—or, for that matter, any of the other 26 museums found here.
Don't miss
If you're here in summer, it's well worth catching one of the world-famous musical acts that perform in some very magical sites: Imagine listening to Beethoven's 9th in the Roman Theatre of Orange, Don Giovani in the Archbishop's Palace in Aix-en-Provence, Tom Jones in Juan-les-Pins overlooking the Bay of Cannes, or Pharrell Williams in the Roman Arena of Nîmes.
Outdoor pursuits
The hiking and biking is lovely, of course, but if you want something a little more unusual, try canyoning in the Verdon Gorge or the Gorges du Loup, sea kayaking to unspoiled beaches around St. Tropez, horseback riding in the Camargue, or even hot-air ballooning (as a former balloon pilot himself, Philip can set you up with the best of the best).
How to spend a lazy Sunday
Head to the market in L'Isle sur la Sorgue, which is a fabulous spot for both antiques and food. Collect the makings of a picnic and then enjoy a canoe ride down the Sorgue River, nibbling goat cheese and saucisson as you go.
Where to Eat
Restaurants the locals love
On the Riviera: Oliviera, in the old town of Nice, is not a fancy setting, but it serves great food made from locally sourced ingredients. Ask Nadim, the owner, to talk you through the menu.
In Provence: Hidden in the hills above the Luberon is the Bistro de Lagarde d'Apt, a one-Michelin-star place with a set menu for 30 euros. The food is beautiful to look at and even better to taste.
Dish to try
Bouillabaisse. This traditional Mediterranean fish stew is probably the most emblematic dish of the region. In the fishing village of Cassis, try it at Chez Gilbert, and in Marseille at Chez Fonfon or Rhul. If you want the three-Michelin-star version, order Le Petit Nice's Bouille Abaisse, an entire menu based on the dish. Want another unusual riff on this classic? Try the Milkshake de Bouille-Abiasse at Marseille's Intercontinental, overlooking the Old Port.
If you prefer to make your own, Philip can organize just that in Marseille: A chef will take you to buy the fish from the fishermen in the Old Port, then bring you to his home to prepare it.
Meal worth the splurge
Right now the buzz is all about Mirazur, a chic place in the hills above Menton, where Argentine chef Mauro Colagreco has hoisted his three-Michelin-starred restaurant to first place in the World's 50 Best Restaurants. The dishes are simple but beautifully prepared, and the seafood is incredibly fresh. Think about booking a year before you come!
AM par Alexandre Mazzia, in Marseille, is another triple-Michelin-starred restaurant and an extraordinary gourmet journey. Don't expect a menu here; you just choose the length of your meal and the dishes arrive, all based on the best produce from the local markets, fishermen, and the like.