The insider advice on this page is from two of Wendy's Trusted Travel Experts for Oman: Jonny Bealby and Dan Waters of Wild Frontiers.
Jonny Bealby and Dan Waters
Jonny has spent decades adventuring in the Middle East and Central Asia—he's even written books about his epic journeys through war-torn Afghanistan and by horse along the Silk Road. His right hand, Dan, has traveled extensively in Jordan, Oman, Iran, Israel, and Palestine. Now based in the U.K., they craft itineraries that get you off the beaten path and under the skin of the world's exotic frontiers, while of course ensuring your safety throughout. They are eager to immerse you in the local culture via overnights in village homes or desert camps, but are also well-acquainted with the most magnificent five-star properties. Whatever your preferred nightly accommodations, Jonny and Dan will ensure you spend your days authentically: In Oman, they'll get you to the tallest dunes in the Empty Quarter at sunset. In Jordan, they'll introduce you to semi-nomadic families of shepherds and their goats. In Iran, they'll get you into the closed-to-the-public Tehran Museum of Contemporary Art so you can see one of the world's most impressive collections of modern art—we're talking Pollocks, Manets, Gauguins—in the most surprising of places.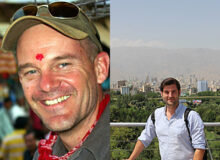 Things to Do and See
Most overrated place
The Ras Al Jinz Turtle Reserve does good work, and they go to great lengths not to disturb the turtles during their critical nesting time. However, the sanctuary gets very busy—and peak nesting season does not coincide with peak tourist season—so you can end up with a lot of people looking at not very many turtles.
Most underrated place
The Empty Quarter of Oman. A night or two spent among the dunes of this vast desert will blow your mind. Out here you can visit a camel farm in the morning, enjoy a picnic lunch at an oasis for a respite from the midday heat, and watch the sunset from the top of the endless dunes. Depending on your budget, Jonny can put you up in either basic dome tents or a luxurious Bedouin-style encampment with raised beds and bathroom facilities. Either way, you'll enjoy the dramatic solitude of a sand sea extending to the horizon in every direction.
Hidden gem
Misfah village. This small, crumbling, old town is wonderfully atmospheric, set among the hills and inaccessible to vehicles. The village is colored with flowers, and crops are made possible by a falaj—an ancient irrigation system that not only brings life to the village but also serves as its hypnotic soundtrack.
How to spend a lazy Friday
To escape the world for a day, go to Wadi Bani Khalid. It's an absolutely picture-perfect oasis. You walk through a canyon, past a small area of crops and the ubiquitous falaj water systems, and then suddenly you are greeted by the most magnificent set of palm-fringed, crystal-clear swimming holes. If you're feeling adventurous, you can swim up the river and do a bit of easy canyoning, going up small waterfalls and scrambling over rocks to reach various pools.
Prime picnic spot
The edge of Wadi Ghul, Oman's Grand Canyon. Enjoy epic views over some very dramatic scenery.
Where to Stay and What to Eat
Best-bang-for-your-buck hotel
The View, in the Hajjar Mountains. It's unpretentious and good value but still quite stylish—and it has one of the most perfectly located infinity pools. The Premier rooms, which aren't much more expensive than the Standard option, have the best locations at the extreme ends of the resort, with unobstructed views over the valley. (They're also beyond the pool, so you don't have foot traffic outside your window.)
Best-value splurge hotel
The Six Senses Zighy Bay. It's got a stunning location on a pristine bay on the Musandam Peninsula, resplendent with soft white sand and crystal-clear blue waters, with surrounding hills providing a magical backdrop. There are numerous pools and a wonderful spa. The huge beach villas are luxe but rustic; each has a private plunge pool and numerous lounging areas both indoors and out. The beachfront pool villas have palm-leaf gates that allow direct access onto the beach and uninterrupted views of the Gulf of Oman. Jonny can even arrange for you to arrive via paraglider (with your luggage coming separately and a pilot guiding you down, of course).
Meal worth the splurge
The Beach Restaurant at The Chedi hotel in Muscat: world-class food and wine, including stunningly fresh seafood, served with a backdrop of the beach and the Gulf of Oman lit up by fire pits.
Dish to try
Shuwaa, the national dish of Oman, is always served at any decent celebration. It is utterly delicious and reflects Oman's historical importance along the Far Eastern spice routes. Making a shuwaa is a time-consuming event: First, you liberally spice a joint of lamb with cloves, coriander, cardamom, cumin, pepper, or other spices. The joint is then wrapped in banana leaves and slow-cooked underground over hot coals for at least 24 hours. When it comes out, it is some of the most flavorful, melt-in-your-mouth meat you'll ever eat. Shuwaa is normally served with rice, shared among many, and eaten with your hands Omani-style. You'll find shuwaa everywhere from fancy restaurants to small local places; a good in-between is Kargeen Restaurant in Muscat, which has a really nice courtyard and serves the dish in single portions.