The insider advice on this page is from one of Wendy's Trusted Travel Experts for Nicaragua, Panama and Costa Rica: Pierre Gedeon of Costa Adventures.
Pierre, a Frenchman whose adopted home has been Central America for more than 20 years, orchestrates multi-country itineraries that maximize efficiency in Panama and Nicaragua—places that are still relatively undeveloped—and in Costa Rica. Trips can feature adventure activities from soft to strenuous (think river rafting, horseback riding, ocean or mangrove kayaking, volcano hiking); a romantic Caribbean beach escape; bird watching and other wildlife pursuits; visits to archaeological sites, colonial towns, and native villages; a focus on three of the region's most popular exports—coffee, chocolate, and cigars; or all of the above.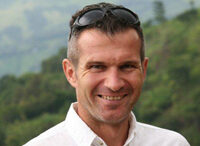 Where to Stay and Eat
Best bang-for-your-buck hotels
Jicaro Island Ecolodge is a private-island resort near the shore of Lake Nicaragua, just a 15-minute boat ride away from the Spanish colonial city of Granada. And though it's so close to all the sights of Granada, you feel like you're in the middle of the jungle. You can tour some of the lake's hundreds of tiny islands, explore the nearby cloud forest, and zip-line through the canopy. The nine, two-story casitas (made from Rainforest Alliance–certified wood) each have a deck overlooking the lake. There's no air-conditioning, but the breeze keeps things cool. Book one of the rooms facing west/northwest, with views of Mombacho volcano, so you can watch the incredible sunsets on your deck while sipping the complimentary bottle of Chilean wine that we give to each of our guests at check-in.
The extreme northwest of Nicaragua is largely untouristed, but it's home to the authentic Hato Nuevo Ecolodge; it's a great value, and the perfect base for getting out into nature, whether you choose to ride horseback in the forest, hike up to a viewpoint of the crater lake inside the Cosiguina volcano, or kayak through the mangroves in Padre Ramos Estuary Natural Reserve.
Restaurant the locals love
Las Colinas del Sur is famous for its guapote, a whole rainbow bass from nearby Lake Nicaragua, served with tomatoes, onions, and avocado. This dirt-floor, thatched-roof restaurant is in a somewhat rough neighborhood outside Granada, so take a taxi from the city center.
Dish to try
Vigorón, a traditional dish of chicharrones (fried pork rind), boiled yuca, and a cabbage-and-tomato salad marinated in vinegar, all served atop a plantain leaf. Find the best ones at Granada market (pickpockets are common here, so you're best off with a guide), or in the city's Central Park, where it's sold from carts.
What to See and Do
Don't miss
The islands in Lake Nicaragua are a paradise for wildlife lovers, with an extensive cloud forest and nature reserve. Though the islands are less than an hour from Granada, the way of life here hasn't changed much for centuries; the small community of native families living here mostly rely on fishing and farming, but are welcoming of visitors. You can come just for the day, but it's well worth spending a night at the Jicaro Island Ecolodge (see "Best bang-for-your-buck hotels") to awaken to bird song, relax in a hammock, and take a fishing tour with a local.
Don't bother
Exploring Managua. It's the site of the only international airport in Nicaragua, but it's also the country's political center and has a large police presence. It's fine to overnight there if necessary, but Managua doesn't warrant any additional sightseeing time.
Cheap thrills
Go to Playa La Flor Nature Reserve, one hour from San Juan del Sur, to see sea turtles laying their eggs at night from August to January. The turtles are threatened, and this is one of the few beaches in Nicaragua where you can see them.
Big thrill
Try sandboarding down the Cerro Negro volcano, one of the country's most active cones. It's an hourlong hike to the top—where you'll have a spectacular view of the sulfurous crater and also the Pacific Ocean—then a quick descent covering 1,300 vertical feet, wearing protective gear, of course. It's helpful if you know how to snowboard, but not necessary.
Downtime
Depending on your energy level, rent a kayak or motorboat from the marina in Granada to explore the islands just offshore in Lake Nicaragua, formed by an ancient eruption of the Mombacho volcano. Many are rich with bird life; some are inhabited by traditional fishermen and their families, others by the country's millionaires; one holds the remains of a colonial fort. Go with a guide to learn about the area's wildlife, flora, volcanoes, and cultural history.