The insider advice on this page is from one of Wendy's Trusted Travel Experts for Croatia: Ala Osmond of Exeter International.
Thanks to frequent trips to the former republics of Yugoslavia during the nearly two decades she spent in the hotel industry in Europe, Ala excels at crafting itineraries that combine the coastal must-sees (think Dubrovnik and Kotor) with historic gems (think Sarajevo and Split) and the picturesque countryside in between—all while avoiding tourist traps, navigating travelers around the cruise-ship crowds that plague the coastal cities, and wisely negotiating border crossings. Food and wine are a priority for most of her travelers (and for them she can arrange truffle hunts, in-home cooking classes, and workshops with local artisans). Charming 5-star and 4-star hotels are a focus for her: She's always up on the latest openings and will warn you away from the more run-down boutiques. Ala can also charter crewed luxury yachts along the Croatian and Montenegrin coasts, for either day trips or multi-night voyages.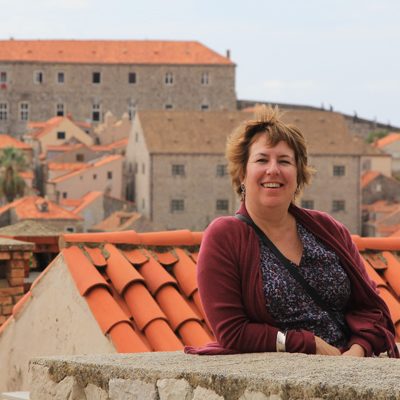 Where to Stay and Eat
Best-Value Splurge Hotel
The Maslina Resort on the island of Hvar is located 25 minutes from the characterful hidden gem of Stari Grad. Broad ocean views from the majority of the rooms, a stunning spa, and the culinary excellence you would expect from Relais & Chateaux property make it possibly the best hotel in Croatia. There are no bad rooms here, but Ala's favorites are the Panoramic Sea View Rooms and Bay View Suites. If you are traveling with family or friends, the resort's private villas are the ultimate in privacy and service.
Restaurants the Locals Love
In Split, Bokeria Kitchen & Wine Bar pays homage to the culinary fabulousness of the whole of Croatia with only the freshest seasonal local ingredients and great wines, served by knowledgeable staff in a gorgeous setting. Also check out their fashionable sister restaurant, Pizzeria Bokamorra, for inventive pizzas.
Dish to Try
While Croatia is a land of fabulous seafood, don't miss the traditional peka, a hearty dish of vegetables, fall-off-the-bone meat, and plenty of herbs, all slow-cooked in a domed metal pan set over a fire. Konoba Dubrava, five minutes' drive from Dubrovnik's Old Town, serves a particularly fine version. It takes several hours to prepare, so make sure you pre-order at least 12 hours in advance.
Meal Worth the Splurge
Monte, in the beautiful Istrian town of Rovinj, focuses on the abundant local produce. It received the first Michelin star in the country but retains an unstuffy atmosphere. Order the five- or seven-course tasting menu, accompanied by a stellar Croatian Malvasia wine. Children are welcome and specially catered to.
What to See and Do
Most Underrated Place
Istria, while becoming better known, is still considered by many travelers the poor cousin to Dalmatia. The Romans called Istria terra magica (magical land), and even today you can feel the strong Italian influence in the architecture and food. Truffles and pasta are a focus on many menus, and Istria is the culinary center of Croatia. Resplendent with Roman ruins, Venetian architecture, and a landscape reminiscent of Tuscany, Istria is well worth a visit; it's also home to some of the country's finest hotels.
Most Overrated Place
Plitvice Lakes is the most famous of Croatia's eight national parks, so it's crowded all year long—extremely so in summer. For hiking or kayaking, go instead to Krka National Park, close to Split.
Hidden Gem
Stari Grad (literally Old Town), on the northern side of Hvar Island, is full of atmosphere, with winding cobbled streets and beautiful hidden squares. If you're staying on Hvar, it's the perfect place to stroll before dinner in a local restaurant.
Don't Miss
If you choose one thing to splurge on in Croatia, hire a private boat for a day or more to take in the natural beauty of the Adriatic. Having your own boat allows you to visit secluded coves and other parts of the islands that are otherwise inaccessible and gives you a completely different perspective on the mainland.
Cheap thrill
You'll find an abundance of both fresh produce and local shoppers at any of Croatia's open-air food markets; one of the most extensive outside Zagreb is in Split. Go early in the day with a local guide to sample the produce and connect with the traders.
How to Spend a Lazy Sunday
Sunday in Croatia is all about family. Although almost everything is open as normal (as the country derives most of its GDP from visitors), the best thing to do on a Sunday is to have a long, lazy lunch and people-watch the locals. In Split, promenade along the Riva and embrace the café culture. In Dubrovnik, take a seat at Kopun, a restaurant that specializes in very traditional recipes and is located in one of the prettiest squares in the old town—Boskovic Square. In Istria, lunch overlooking the hills at Konoba Tončić is a must.