The insider advice on this page is from one of Wendy's Trusted Travel Experts for Argentina: Maita Barrenechea of Mai10.
The daughter of an Argentine ambassador, Maita spent years living abroad—in Paris and Washington, D.C.—before settling back home in Buenos Aires. Eager to introduce the rest of the world to her favorite finds in South America, she founded a company that arranges the gamut—from hiking and fishing expeditions in Patagonia to beach-chic getaways in Punta del Este to shopping sprees in Buenos Aires. Maita, who says she grew up inhaling nature and culture, is most passionate about providing travelers with those authentic, one-of-a-kind encounters that make for the happiest travel memories. She handpicks her guides, hiring only those with the right balance of knowledge and charisma, and is particularly fussy about hotels: Whether it's a luxury estancia in the Pampas or an ecolodge in Tierra del Fuego, she'll detail all the pros and cons.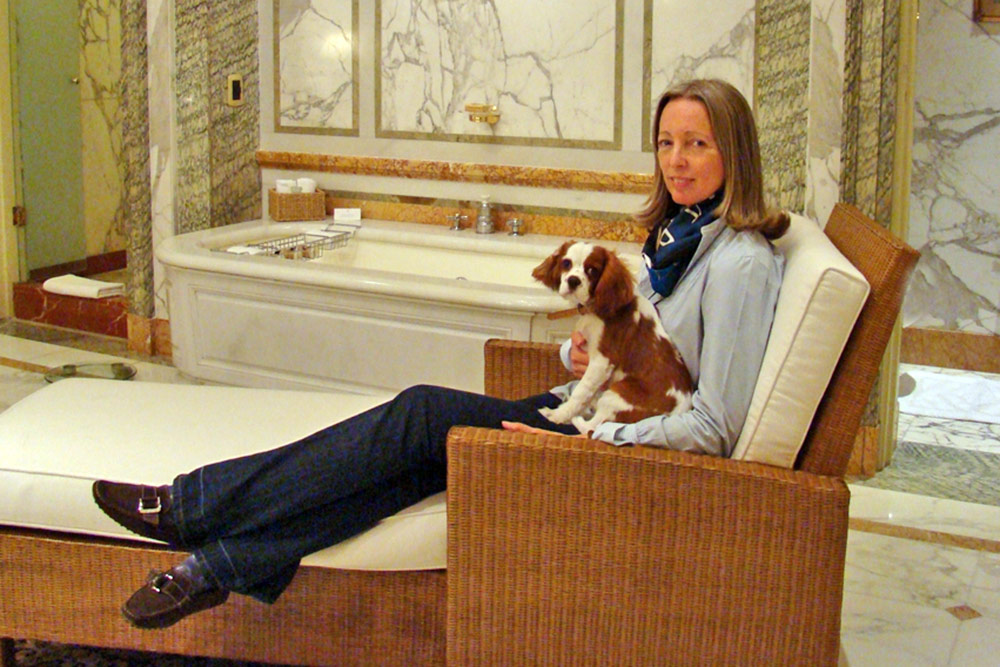 Where to Stay and Eat
Best bang-for-your-buck hotels
Esplendor Plaza Francia, on the fringe of Recoleta (Buenos Aires' most elegant and traditional residential neighborhood), offers tempting rates and some of the best city views. This modern hotel is decorated by Argentina's top designer, Martin Churba, and is located just across from the Palais de Glace exhibition center, where cultural shows are held. In many hotels, suites aren't the best value, but here they are very reasonably priced, and all have balconies overlooking the central parks and city shoreline, with sailboats dotting the wide Plata River. The 13 standard rooms (called Concept Rooms) that face the front of the building have a similar view.
Hub Porteño is a luxury boutique hotel housed in a lovely town house in the heart of Recoleta. Book the Bacan Suite, with a huge picture window looking onto the beautiful fig tree that emerges from the restaurant's glass roof. We can often offer special amenities such as drinks on the terrace, dinner at the fabulous La Pécora Nera grill, a room upgrade, early check-in, or late checkout. (While you're there, visit the shop next door, Tramando, for fabulous clothing and home decor.)
Restaurants the locals love
La Brigada in San Telmo—the oldest neighborhood in Buenos Aires, where tango dancers regularly perform on the cobblestone streets—is a true parrilla (steak house), as authentic as it gets. Book a table downstairs in the original building, where the locals dine.
Meal worth the splurge
An intimate dinner in Francis Mallmann's own magical home and closed-door retreat, with just four tables. Francis is the country's preeminent chef, and as a lifelong friend, Maita is able to arrange for him to cook just for you. For the ultimate local dish, try his veal chops Milanese with fresh bread crumbs and Patagonian potatoes; there is little Argentines love more than a good "Milanesa"—that irresistible beefsteak pounded, breaded, sautéed, and served with a lemon wedge—and no one makes it better than Francis. Ask him about the special process he uses to mature and tenderize his unique cuts of beef.
What to See and Do
Don't miss
El Zanjon de Granados, in the San Telmo neighborhood, is an architectural jewel. Three houses from the eighteenth and nineteenth centuries—including a once-grand mansion that had been turned into a tenement house, and the last slave house in Buenos Aires—have been magnificently restored here. (The result is so beautiful that it's now a venue for special events.) The work also uncovered a network of secret tunnels once used to channel water, where English china, French tiles, and other artifacts were unearthed.
Cheap thrill
Taking the Colón Theater tour: English-language tours take place almost every hour daily. You can buy tickets to some shows for less than the cost of the tour (150 pesos, or about $20), but at a performance you can't see the rehearsal rooms or backstage workshops. Opened in 1908, the Colón is one of the world's most magnificent opera houses, both in terms of architecture and acoustics. Maita can also arrange private tours with her favorite guides and prime box seats for performances.
Bragging rights
Attend a polo championship (the major ones happen in Buenos Aires between September and December) with a professional polo player to give you the play-by-play. Before the game, go backstage to where the horses are groomed and saddled, then watch from your prime seating near the field, and top it with tickets to an exclusive after-party attended by players, fashion designers, bankers, and other high rollers. Maita can make all these arrangements, and even organize private lessons with the world's best polo players at their farms.
Tour the National Fine Arts Museum in private, after hours. Have the works of Rembrandt, Picasso, and other European masters—not to mention the world's largest collection of Argentine art—all to yourself. To elucidate your experience, an art historian, curator, or even the museum's director will guide you through the silent halls, discussing the importance of each masterpiece. If you come during the annual artBA show in May, Maita can arrange a private preopening visit and entrance to exclusive parties in galleries, embassies, and collectors' homes.
How to spend a Sunday
Take in one of the local markets that porteños frequent: Go antiquing at the San Telmo flea market, with its lively bohemian street scene, then fuel up at Café Dorrego; peruse the Recoleta Crafts Fair and lounge at Café La Biela by the centenary rubber tree to watch the world go by; or attend the Mataderos Gaucho Fair for folk music, dancing, and thrilling competitions of horsemanship. Mataderos can be a rough neighborhood, so consider bringing a local or hiring a guide.
Downtime
Head to the outskirts of Buenos Aires and spend the day in the Tigre Delta. Take an old wooden boat along the intricate network of channels, rivulets, and islands for lunch on the deck at El Gato Blanco to enjoy the merry river scene, or ask Maita to arrange a visit to a private island owned by an art collector with a magnificent botanical and sculpture garden.
Instagram moments
The silhouette of the Santiago Calatrava–designed Women's Bridge in Puerto Madero, taken from the vintage Sarmiento Frigate (a late-nineteenth-century cadet training ship turned museum), right when it opens at 10 a.m.
The huge metal flower sculpture, Floralis Generica, taken from the side of the ATC TV network building toward the Law University, at sunset.
The angel sculptures on the domes of the Recoleta Cemetery mausoleums in the early morning.