The insider advice on this page is from one of Wendy's Trusted Travel Experts for Western Canada: Marc Telio of Entrée Canada.
Born in Montreal and now based in Vancouver, Marc is most passionate about helping travelers access Canada's most remote places, dazzling landscapes, and memorable activities. His favorite itineraries combine beautiful scenery, fascinating wildlife, and local culture with soulful accommodations (think luxury tented camps and sumptuous wilderness lodges). Marc and his team are like special-ops agents—pros at logistics, taking into account weather patterns, tides, seaplane schedules, and dozens of other details to ensure a seamless experience. Their tight-knit relationships with top outfitters, guides, and hotels translate to V.I.P. treatment for you.  And if you're looking for kid-friendly adventures, Marc has plenty of ideas up his sleeve—his two kids grew up on scouting trips throughout Canada.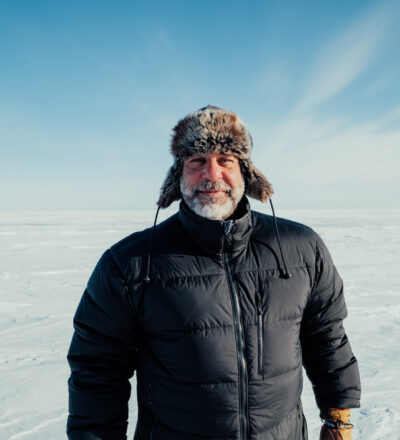 Where to Stay and Eat
Best bang-for-your-buck hotels
Haida House, located on the pristine beaches of Haida Gwaii, an archipelago off the coast of British Columbia. The lodge and its oceanside cabins are positioned on Graham Island's dramatic and sprawling east coast and offer guests an immersive experience in Haida culture. This property delivers big bang for your buck, as stays include gourmet meals, cultural programs, and excursions. Days are spent with local Haida guides, artisans, and elders. Guests explore Gwaii Hanaas National Park Reserve, visiting ancient village sites and hearing stories translated from the carvings of ancient totem poles. They also meet local artists, learning about the role that art plays in preserving myths, legends, and culture. To further increase your value, Marc recommends visiting in the spring or fall, when rates are lower and the climate is mild
As wilderness lodges go, it's hard to beat the value-for-dollar you get at Sonora Resort, a Relais & Chateaux property in the Discovery Islands. Unlike similar lodges, Sonora doesn't require a minimum stay, and its rates include the room, meals, and beverages, but you pay extra for the activities you want. And there are plenty to choose from! The resort has excellent wildlife programs where you can see whales, grizzlies, seals, sea lions, eagles, or dolphins. You can also go sea kayaking or salmon fishing, or just hang out at the fabulous spa. Marc's travelers get a complimentary two-hour wilderness excursion by zodiac.
Restaurant the locals love
Kishimoto is a phenomenal Japanese place, but it's so local and has such a casual environment that you can wear flip-flops and shorts if you wish. Their specialty is oshi sushi, which is rectangular sushi that has been compressed in a box. The two must-taste dishes are the okonomiyaki (a grilled pancake with shrimp and vegetables) and the smoked salmon oshi sushi, which comes with a small glass dome over it that is filled with smoke to impart flavor. Kishimoto is in a funky, hip part of town, East Vancouver, so there are plenty of places to window-shop before or after dinner.
Meals worth the splurge
Nightingale, named Canada's "Best Farm to Table Restaurant," is an elegant yet approachable restaurant specializing in small plates influenced by fresh and seasonal ingredients. It's taken over the old University Club in the financial district, and a heritage façade welcomes you amidst nondescript towers. Once inside, you're greeted by soaring double-height ceilings with a lower-level bar, dining space, and upper mezzanine with additional seating. The menu, designed by owner/chef David Hawksworth (of Hawksworth Restaurant and Bel Café), draws raves for its array of share plates such as Pacific halibut ceviche finely sliced with lime, avocado, radish, and quinoa; oven-roasted baby turnips with greens; and grilled pork belly with nectarine, white balsamic vinegar, and pistachio.
Published is one of eight Michelin-starred restaurants in Vancouver and was named "Best Restaurant in Canada" in 2022; it serves contemporary Pacific Northwest fare with a varied and ever-changing menu. While it's fine-dining cuisine, the space itself is approachable and its location on trendy Main Street promises a diverse, food-loving crowd.
Dynasty is in the most nondescript place and it's not even a pretty-looking restaurant, but it has won several local awards, and it's where Chinese people go to eat. Most everything is good here, but for a treat, splurge on the king-crab dish that costs between $500 and $800, depending on the market price.
Prime picnic spot
Spanish Banks Beach is a nearly two-mile stretch of beach and parkland with dramatic mountain vistas and a stunning view of Vancouver's city center. Every Sunday in the summer, they have a drum circle—it's a super bohemian scene that's really fun to experience. You'll see upwards of 20 people from different parts of the city all coming together to play on different types of drums, tambourines, and percussion instruments, and they make unbelievable music. Hundreds of people hit the beach to listen, and plenty set up hibachis to barbecue.
What to See and Do
Don't miss
The Great Bear Rainforest stretches from Alaska to Seattle. It's a temperate rainforest that's extremely lush and dense with thick, old growth — and only a few regions on earth have that kind of rainforest. The Great Bear actually goes right through Vancouver, so you can wander through the city's Stanley Park to see parts of it, take a seaplane just a couple hours north for a day trip, or explore it from a coastal wilderness lodge. But any way you want to do it, it should not be missed.
Don't bother
Every summer day, hundreds of tourists surround the famous steam clock in the heart of Vancouver's Gastown neighborhood. Yes, it's a nice-looking clock, and every hour steam comes out of it, along with a lovely chime…but there are many more interesting ways to spend your time in this vibrant city.
Cheap thrill
Sewell's Marina, in Horseshoe Bay in West Vancouver. For those who are comfortable commanding a small motorboat: Rent a boat from Sewell's and cruise up Howe Sound to Bowen Island, bring lunch for a picnic, and then come back. You pay by the hour, it's fun and beautiful, and all those little islands in Howe Sound are filled with rainforest.
Bragging rights
Helicopter fishing in the Great Bear Rainforest, along British Columbia's pristine coastline.  Your helicopter pilot/fishing guide will touch down on quiet riverbanks in search of salmon fighting their way upstream. All that's left is for you to step into the water and prepare for an epic day of fishing in this massive playground.
Best for thrill-seekers
Fly to Whistler Resort in either a private helicopter or seaplane. Once there, you will land on a glacier to have a private picnic lunch in an ice cave; afterward, Marc can set up a private rappelling course down a rock face next to a waterfall.