The insider advice on this page is from one of Wendy's Trusted Travel Experts for Colombia: Boris Seckovic of Amakuna.
After settling down in Medellin with his Colombian wife, this British expat sought out a way to earn a living in his adopted home—and saw an opportunity to become the first high-end travel company based in this diverse and emerging destination. Now fully ensconced in the culture, Boris is constantly traveling the length and breadth of Colombia to discover and develop new opportunities for his travelers, from paragliding in coffee country to stargazing in the desert with an astronomy professor. He can arrange for you to cook alongside a cutting-edge chef, visit an Amazon lodge that works hand-in-hand with the community, explore Bogota's gallery scene with an art expert, or road-trip between indigenous villages and UNESCO-quality pre-Hispanic sites. He is well-connected at the country's handful of boutique hotels; for larger parties that want some room to spread out, Boris also has a portfolio of private homes and fincas, some of which aren't available to the public.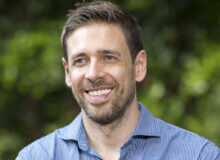 What to See and Do
Most Underrated Experience
The art scene in Bogota is electrifying and cool. Art has liberated this city, and that is conveyed by the ubiquity of street art and the profusion of galleries and exhibitions. You will see many tangible expressions of a Colombia in the midst of its renaissance. Explore the new art district in the San Felipe neighborhood (between 72nd and 80th streets/Caracas and 24th avenues) or check out The Gold Museum, The Botero Museum, or the Museum of Modern Art.
Cheap Thrill
Stroll through Paloquemao Market, a dynamic local scene and the largest food market in Bogota. You'll find a bountiful variety of produce not available in other parts of the world. Boris' guides can point you to the best flavors amid the chaos, including the lesser-known eateries that lack signage. If you go solo, the sweet spot for visiting is 11am, after the locals have finished their morning shopping, so the vendors have time to chat and offer samples.
How to spend a lazy Sunday
The flea market in the Usaquen neighborhood has a lively atmosphere and is family-friendly.  It's open every Sunday from 11am to 4pm. You can stroll for hours among the myriad stalls, finding bizarre and unique items from hand-knit sweaters to antique coffee makers.
Where to Stay and Eat
Best bang-for-your-buck hotel
The Sofitel Victoria Regia is an elegant, French-style hotel located near the trendy and upscale Zona-T; you can walk from here to any number of great bars and restaurants. The service is impeccable and it's home to the best hotel breakfast in Bogota. It's worth paying slightly more to upgrade from the Classic rooms to the Superior category, which are a bit larger and better positioned; the Junior Suites come with a separate living area and balcony.
Best-value splurge hotel
Four Seasons Casa Medina is the city's most luxurious option, located in an exclusive neighborhood and housed inside an iconic 1946 building. No two of its incredibly ornate rooms are alike, but all are full of character. Boris' favorite is number 303, a very spacious one-bedroom suite with its own wood-burning fireplace and a huge bathroom.
Restaurants the locals love
Mini-Mal in Chapinero: It's cozily located in a traditional Bogotano home and serves a contemporary spin on Colombian cuisine. Try the blowfish with lulo sauce.
Cafe Amarti in Usaquen: A rustic and relaxed Italian restaurant where you can enjoy a delicious wood-fire pizza while mixing with locals.
Nueve in Quinta Camacho: A relaxed eatery and wine lover's paradise (any of the 162 wines can be had by the glass) set in a chalet-inspired traditional Bogota house, serving tapas-style dishes that blend Colombian and Mediterranean flavors. The suckling pig is the standout.
Dish to try
Lechona, a classic Colombian party dish: You can't go wrong with a pig that's been slow-roasted for hours, liberally seasoned with herbs and spices, and stuffed with rice, egg, and vegetables. This absolutely delicious dish is widely available in Paloquemao market (see "Cheap Thrill").
Meal worth the splurge
Restaurant Leo is a bold journey through the history and diversity that exists in Colombia.  It is run by critically acclaimed chef Leonor Espinosa and her daughter Laura, who is the sommelier. Their tasting menu beautifully blends Colombian culture and tradition with modern technique, using indigenous Colombian ingredients such as wild rodents, ants, or fish sourced from the Amazon. If you're adventurous enough to try such dishes, Leo delivers a unique culinary experience that pays tribute to Bogota's emerging and robust food scene.