The insider advice about Belgium on this page is from one of Wendy's Trusted Travel Experts for Belgium: Tom Stinglhamber of Brilliant Ideas.
Based in Antwerp and fluent in Dutch, English, French, and Portuguese, Tom started as a hotel concierge and now treats travelers to that same white-glove service as he crafts Benelux itineraries combining city sights and countryside charm. It's a compact region (Amsterdam is an hour's drive from his office), so he knows the right people to make your trip special, whether that's a master Cicerone (a beer sommelier) who can guide you through a tasting of Belgium's finest brews, a Michelin-starred chef who will cook only for you as you cruise privately through Amsterdam's canals in a luxuriously refurbished 19th-century boat, or a renowned chocolatier who treats you to a praline workshop in his private atelier. Accommodations are most often in stylish, independently owned boutique hotels, along with the odd medieval castle that has been transformed into a romantic overnight haven.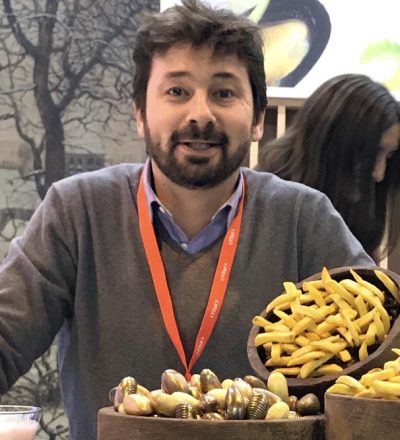 Where to Stay and Eat
Best bang-for-your-buck hotel
In Brussels, Hotel Amigo is full of Belgian touches: Magritte posters, comic-strip drawings of Tintin, turndown treats of speculoos cookies or Belgian chocolates. And the location is perfect, just off a beautiful square, Grand Place; you can almost touch City Hall from some rooms. Tom's relationships here allow him to pamper travelers with room upgrades, early check-in, late check-out, and dining credits.
Best-value splurge hotel
In Ghent, 1898 The Post is a boutique hotel full of carefully chosen furniture and knick-knacks that give it a homey feel. The Tower Suite is the most romantic room in town. This octagonal suite, spread over two floors connected by a winding staircase, has you sleeping in a Belle Epoque tower with a 360-degree view over the rooftops of this historic city.
Restaurant the locals love
In Ghent, Hal 16 is a top spot for families, beer lovers, and foodies. It's a cozy food market run by the Dok microbrewery where you can enjoy anything from barbecue to Tuscan specialties.
Meals worth the splurge
Belgium has three restaurants with three Michelin stars each; a chef's-table dinner at Hof van Cleve, Zilte, or Boury is a splurge you won't regret!
In Antwerp, the stunning new Botanic Sanctuary hotel has five of the best restaurants in town, sharing four Michelin stars among them, all under one roof.
Dish to try
Flemish stew, a rich and savory traditional meat-and-onion stew made with Belgian beer—served with proper Belgian fries, of course! You'll find this dish in most traditional brasseries.
Prime Picnic Spot
Middelheim Museum in Antwerp, a place where art and nature go hand-in-hand. Sculptures from local and internationally known artists are spread across a beautiful park. Buy a belegde broodje (fresh sandwich) from a bakery and enjoy the setting! The museum is located on the outskirts of town (but easily accessible); on the way you'll pass by the Zurenborg district, with its photogenic concentration of Antwerp's Art Nouveau buildings.
What to See and Do
Don't miss
Belgium was a crossroads of many battles and world wars—the Napoleonic Wars (Waterloo), World War I (Ypres, Flanders Fields), World War II (Battle of the Bulge). Tom knows passionate military historians who can put the battles in context and help you understand the physical and strategic challenges faced by the soldiers and generals. It's often a very emotional experience—and a scenic one, too: These sites are often located in less-visited areas of the countryside.
Don't bother
Traveling by train for more than a day trip; unless you're a light packer, negotiating train stations with large bags can be challenging.
Most Underrated Place
Most travelers visiting Belgium explore the art cities of Flanders, in the north. But to the south, Wallonia has majestic forests, clear rivers, picturesque villages, centuries-old traditions, and even a couple of castles that have been turned into atmospheric boutique hotels.
Most Overrated Place
Peeing Boy Statue (Manneken Pis) is one of the best-known attractions in Brussels. But don't expect something grand: It's a small bronze statue, just 24 inches tall, at the top of a larger fountain.
Hidden Gems
Ghent is less touristy than Bruges, giving you the feeling of having stepped back in time. Its other main appeal is a very modern and eco-friendly shopping and food scene.
Cheap Thrill
In Bruges, ride a bicycle into the countryside along the canals, dikes, and polders (a kind of marsh or flood plain) to the lovely village of Damme, where you will find a wonderfully maintained medieval port. On the way back to town, you'll pass white-painted polder houses that illustrate the quintessential Flemish village: charming, nostalgic and romantic.
Bragging rights
After passing strict security controls, visit the closed world of Antwerp's diamond district, going behind the scenes with a diamond broker. He'll relive the glory days, the near-collapse, and finally the resurrection of the Antwerp diamond industry in the nineteenth century. But most importantly, you'll visit a family-owned business and atelier to understand the basics of gemology, jewelry design, and diamond polishing. You'll also pass by the Diamond Bourse (exchange) to see why Antwerp has been the largest and most dependable diamond center in the world for more than five centuries.
How to spend a lazy Sunday
In Brussels, Sundays are antique and flea market days. Start at one of the spots most frequented by locals: Jeu de Balle Square, also known as the Old Market. Here you can find all kinds of trinkets, old photographs, vintage furniture, second-hand clothing—you name it. The atmosphere is unique and extremely welcoming, and the square itself is beautiful. All around you'll find numerous cozy eateries and typical Brussels cafés. Afterward, continue to Grand Sablon, which on Sundays transforms into a market displaying antiques and books. Belgians have a passion for pretty objects with soul!