UPDATE: Now is not the time to travel to Russia. Our thoughts and hearts go out to the people of Ukraine, and here are ways to help. If you are interested in learning about the feasibility of travel to other former Soviet republics (e.g., Estonia, Latvia, Lithuania, Georgia, Armenia, Azerbaijan), click on the black CONTACT button at left below and submit the trip questionnaire.
Soon after the collapse of the Iron Curtain, Greg established himself as a leader in high-end, hassle-free travel to Eastern Europe, especially the former Soviet republics. He and his team troubleshoot everything for you. They pre-book all visits to museums, palaces, and other landmarks so that you can skip the lines, and they negotiate upgrades and other perks at the most charming and atmospheric hotels. Thanks to Greg's extensive connections on the ground and friends in high places, he can also get you inside the most exclusive venues that are off-limits to the general public.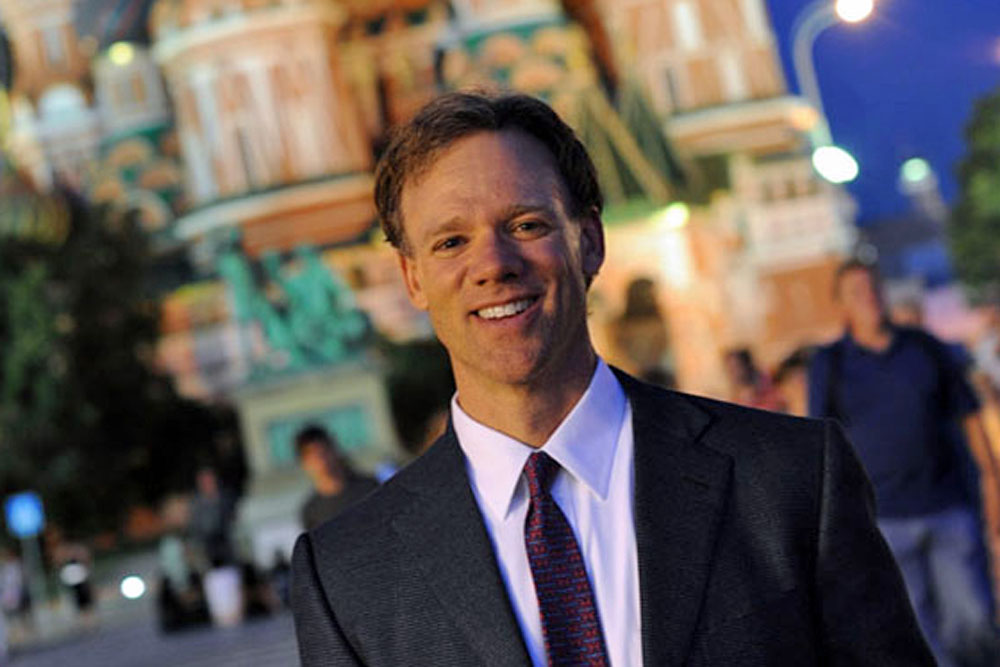 Where to Stay and Eat
Best bang-for-your-buck hotel
An entry-level Standard Park Room at the Ararat Park Hyatt is excellent value, especially if you book Friday, Saturday and Sunday nights when rates are half the weekday rate. These rooms have a stunning view of the Bolshoi Theater, which is just steps away (the more expensive Deluxe Park rooms are slightly larger, but don't have this view). Greg's guests at the Ararat Park Hyatt get one free night if staying over a weekend. The hotel also has a rooftop Conservatory restaurant with panoramic sight lines over Moscow.
Restaurants the locals love
Moscow has some extraordinary restaurants, but Greg recommends Grand Café Dr. Zhivago. An immediate success since it opened in 2014, this restaurant has it all: a perfect location close to Red Square; stylish décor; and excellent Russian food with a contemporary twist. Popular with Muscovites from all walks of life (and open 24/7), this is one place where it's essential to make reservations at least a week in advance. Try the housemade pelmeni (Russian ravioli) as an appetizer and the beef stroganoff for an entrée.
Best spot for a drink
With the fairy tale–like St Basil's Cathedral, the spires of the Kremlin, and the incredible medieval-style Historical Museum, Red Square truly is an awe-inspiring location. Directly opposite the Lenin Mausoleum is Café Bosco; there really isn't a spot to rival it anywhere in Moscow. The café is open from 10 a.m. to 10 p.m., and the best tables are on the outside terrace. Enjoy a full meal, or go for a drink and a light snack.
What to See and Do
Don't miss
Everyone associates palaces more with St. Petersburg than Moscow, but just on the outskirts of Moscow are some exceptional estates that belonged to Russian nobility. Greg's favorite is Kuskovo, which was the summer home of the Sheremetev family. The palace is completely original and the gardens and summer outbuildings are gorgeous—they even include a grotto made completely from seashells.
Don't bother
Before the Soviet era, Arbat Street was one of the most desirable addresses in Moscow; today it is a gauntlet of chain restaurants (McDonald's, anyone?), overpriced stacking dolls, and pickpockets. If you want to stroll, go to Kuznetsky Most instead—you can probably walk there from your hotel—where you'll find not only tourists but also plenty of Muscovites shopping, enjoying cafés, and having dinner before the theater. Likewise, skip the GUM department store unless you are interested in Prada, Gucci, or Loro Piana. The only uniquely Russian outlet there is the food hall.
Bragging rights
Enter the Grand Kremlin Palace, the no-go section of the Kremlin, used by the president to sign treaties and entertain foreign dignitaries. Built for the tsars, this palace is overwhelming in its opulence and has never looked better after a total restoration in the early 2000s. Access is allowed only with permission of the commandant of the Kremlin—in other words, you need connections and financial power. Expect to pay approximately $2,500 for one to 18 people to enter, but it will truly be your most memorable experience in Moscow.
Downtime
On the day you arrive in Moscow, a walk to Zaryadye Park is a must. Created by Diller Scofidio + Renfro—the architects who designed New York's High Line—this 32-acre park is astonishing. The concept is "wild urban": The park is right in the center of the city and merges historical streets with nature. All of Russian geography is showcased here, with the steppe, tundra, forest, wetlands, and even an ice-cave that is maintained year-round. Perhaps the most striking feature, though, is the extraordinary floating bridge. By far the best way to explore Moscow is on foot; take an architectural stroll through central Moscow with a top guide who knows the history of just about every building in the city. Your guide's stories take you back to different eras of the city's significant history.